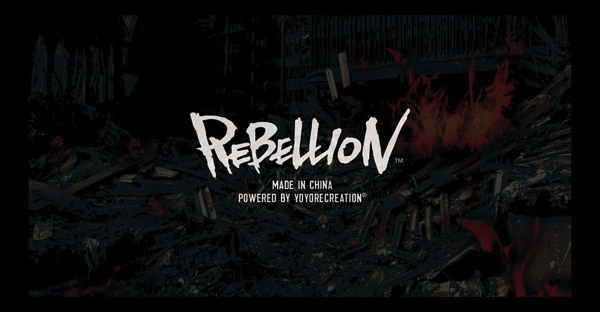 ---
START THE RIOT:
Start the Riot is constructed of a 6061 Aluminum body with two sets of steel weight rings. The heavier steel outer rings give this model a powerful spin while the central weight rings gives the play an element of softness on the string. The dual weight ring design is a tough one to get right, but Rebellion hit this one out of the park!
Start the Riot plays fast, light, and as stable as they come. This yo-yo has the perfect feel for chilling at home and learning new tricks or performing on stage against the toughest competition!
---
INVADERS MUST DIE:
The Invaders Must Die is a high performance v-shaped yo-yo that features some nice stepped up stainless steel rings designed to pack a lot of weight right where it's needed on the very edge of the rims. They give this light weight yo-yo a crazy powerful spin and long spin time that you would expect from a much heftier model.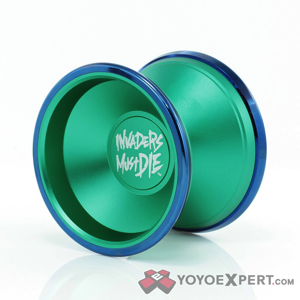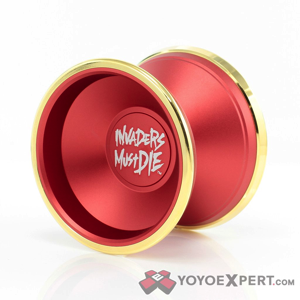 Everything you're looking for in a new bi-metal design, the new Rebellion Invaders Must Die is fast, maneuverable, and has enough spin time to power through your longest combos twice!
---
LILLIPUTIAN:
The Lilliputian is a really high performing yo-yo with a nice undersized shape. Undersized and high performance isn't something you don't always hear together when talking about yo-yos, but once you throw the Lilliputian we think you'll agree!
With an organic profile and a smaller size, the Lilliputian fits comfortably in the hand and has excellent maneuverability, as expected form small yo-yos. What you don't expect however, is the above average stability and spin time that this little yo-yo brings to the table! The rim heavy weight distribution gives it a really stable and solid feel on the string with a powerful spin.
---
GAZER:
If you thought the Gazer had a familiar look, you're right! This beautiful new yo-yo was designed after the crowd favorite Yoyorecreatoin Stargazer, and it really lives up to the name!
The Gazer packs all the competition level performance you expect from Yoyorecreation's new Rebellion line into a more compact and comfortable organic shape. It plays as fast as you can push it without feeling heavy on the string, and thanks to the rim heavy design it has excellent stability and spin time – perfectly suited for any style!