OVERTHROW:

YoYoFactory believes real rim weight should be for more then just appearances, it should push the performance and be the driving force behind the design. With a lightweight polycarbonate plastic body and chunky aluminum rings that make up two thirds of the total weight, the OVERTHROW is prime example of what extreme rim weight can bring to the table. The oversized yet lightweight design has an impressive spin power and stability with an ease of control in play that will keep you coming back for more!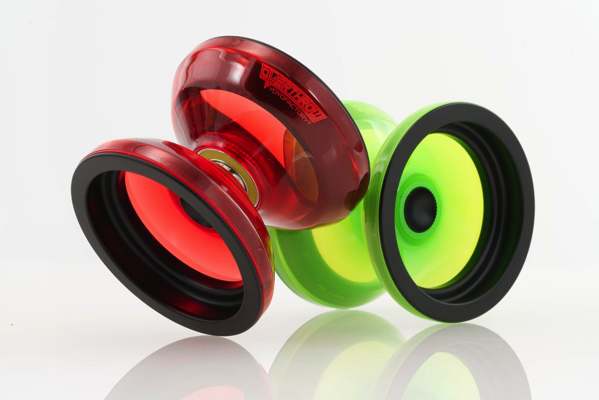 ---
GenXs:
After dozens of recent requests for pocket throws YoYoFactory knew they needed to create something special for their fans. The goal was an undersized throw that wouldn't sacrifice spin time or maneuverability and that's exactly what the GenXs delivers! Looking into YoYoFactory's arsenal of designs there was one throw that always offered maximum stability, maximum spin, & maximum performance – the GENESIS. The classic shape was scaled down and the rim weight carefully re-distributed to keep the qualities that made Genesis so special, now in an Xtra-Small design.
While slim, agile, and powerful don't always go hand in hand, the GenXs delivers on all fronts with true performance you can take with you anywhere!