LILLIPUTIAN:
The Lilliputian is a really high performing yo-yo with a nice undersized shape. Undersized and high performance isn't something you don't always hear together when talking about yo-yos, but once you throw the Lilliputian we think you'll agree!
With an organic profile and a smaller size, the Lilliputian fits comfortably in the hand and has excellent maneuverability, as expected form small yo-yos. What you don't expect however, is the above average stability and spin time that this little yo-yo brings to the table! The rim heavy weight distribution gives it a really stable and solid feel on the string with a powerful spin.
---
GOLYAT:
Golyat is the Hebrew word for Goliath, so right from the start you know that this yo-yo is going to be one big powerful beast! The Golyat has a comfortable oversized organic v-shape that is machined from a durable polyacetal resin. The machined resin has a really smooth texture and isn't extremely dense so this larger yo-yo feels really fast and and maneuverable on the string.
Fast, stable, and maneuverable – This Golyat is one goliath you don't need to be afraid of! It's time to step away from the pack, give your wallet a break, and join the Rebellion!
---
QILIN:
The Qilin will give you that high end performance you're looking for without making your wallet fear for it's life. It has a nice soft v-shape profile that fits comfortably in the hand and moves quickly through the air. The weight distribution is set up to be relatively rim heavy with some center weight as well to give the Qilin an amazing stability and spin time without sacrificing any maneuverability.
---
DREAD G:
The Dread G is a completely different monster. This heavyweight version of the Dread weighs in at 80 grams. Some people may think this sounds too heavy, but once you throw it you won't want to stop! It has one of the most powerful spins and a seriously solid feel on the string that you just can't get with lighter or smaller yo-yos.
---
START THE RIOT:
Start the Riot is constructed of a 6061 Aluminum body with two sets of steel weight rings. The heavier steel outer rings give this model a powerful spin while the central weight rings gives the play an element of softness on the string. The dual weight ring design is a tough one to get right, but Rebellion hit this one out of the park!
---
INVADERS MUST DIE: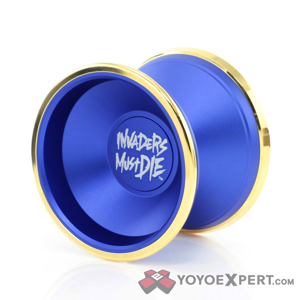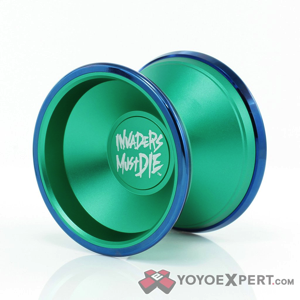 The Invaders Must Die is a high performance v-shaped yo-yo that features some nice stepped up stainless steel rings designed to pack a lot of weight right where it's needed on the very edge of the rims. They give this light weight yo-yo a crazy powerful spin and long spin time that you would expect from a much heftier model.