STARSTRUCK:
Yomega has been quiet for a while, but now they're back with a big new release – The Starstruck!
As part of Yomega's Elite Metal Series, The Starstruck offers competition-ready performance and a premium feel at an affordable price. This full-sized throw has a slightly narrower width than the average, but it still packs some serious power. The stepped profile keeps the catch zone wide for risky tricks and the weight distribution maintains a pleasantly balanced feel in play with plenty of speed and maneuverability.
Weighing in just over 65 grams, the Starstruck has a lighter feel and speeds through combos just as fast as you can push it. An ideal yo-yo for throwers looking for an affordable unresponsive metal that can really perform!
---
FIREBALL:
Thanks to its transaxle system, the Yomega Fireball has long been a favorite of aspiring beginners and intermediate players around the world.
---
SPECTRUM:
The Spectrum is a cool light up yo-yo from Yomega. It features a multi-color LED light that gives you bright vibrant bursts of light with every throw of this fun yo-yo!
---
POWER BRAIN XP: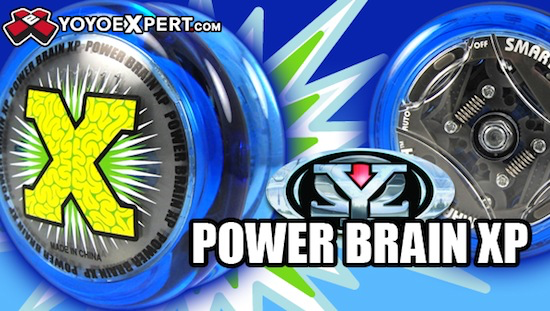 The Power Brain XP is the coolest invention from Yomega for beginner yo-yos. Founded in 1983, Yomega created the first auto-returning clutch-system and this release has taken that a step further!
---
YOMEGA BAG:
This soft case bag can safely and securely hold up to 8 yo-yos. It has a nice protective foam with spots for your yo-yos, 2 spot for accessories, and an outside zipper for whatever else you need to take with you.