3 New YoYoFactory T-Shirts!
---
PINK & BLACK COLLECTION:
The new Pink and Black Collection T-Shirt from YoYoFactory has a really fun and cool look.
YoYoFactory printed the logo big and bold on the front of this t-shirt with aome bright pink words of encouragement in the background that really make the shirt pop. It's printed on a super soft American Apparel T-Shirt that looks great and fits even better!
---
WAVE T-SHIRT:
The cool new YoYoFactory Wave T-Shirt features some unique Japanese inspired artwork with yo-yo string incorporated into the design.
Printed in bright white on a black Gildan T-Shirt that provides a comfortable fit and style that is sure to look good in any wardrobe.
---
BAR T-SHIRT:
The New YoYoFactory Bar T-Shirt is a really cool design with a compilation of all of their signature color bar artwork all in one shirt.
This Shirt features the YoYoFactory logo printed on the front and an assortment of bar logos on the back; The bar logo, dot logo, word mark, hand-drawn yo-yo logo, Prague skyline logo, and flag logo. These designs all come together to form one cool new T-Shirt!
Printed on a soft tagless black t-shirt, the YYF Bar T-Shirt fits comfortably and looks great!
---
NEW FLIGHT SPACERS KIT: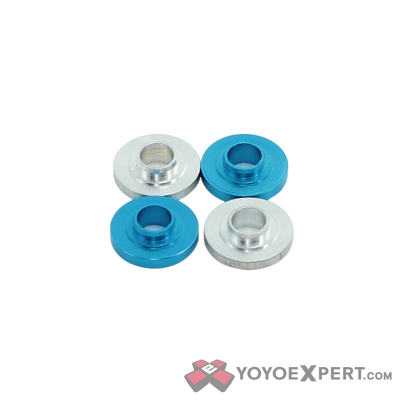 Kit includes one pair of Blue (Thicker) and one pair of Silver (Standard) Spacers for your YoYoFactory Flight!