The Hildy Brothers are a group of brothers, Brent, Jon, and Luke, from Virginia who all share a passion for woodworking, design, photography, and of course – yo-yos. They consider themselves to be "Modern Vagabonds" and that is exactly who they make these beautifully carved yo-yos for.
The all wooden, hand turned, American made, Currier is the first Hildy Bros yo-yo available here at YoYoExpert, and it has the perfect no-frills design. Using different and unique woods like purple heart, walnut, maple, or bamboo (just to name a few) really gives these yo-yos a classic and refined look. And each Hildy Brothers yo-yo has a solid Maple axle for great spin on a fixed axle yo-yo, throw after throw.
Purple Heart: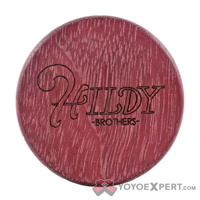 Padauk:


With its simple, fixed axle, design and no extra pieces to slow you down, this 'classic' yet modern throw is ready go whenever you are. Just give The Currier one throw and watch it bring out the modern vagabond in you!