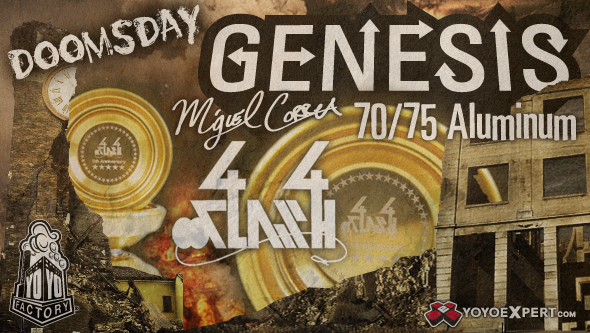 On 12/21, YoYoFactory will be officially releasing the DoomsDay Genesis but YoYoExpert has a special 44CLASH pre-release edition now available in honor of the exclusive 44CLASH contest in Japan! Solid Gold with the 44CLASH engraving. YoYoFactory and the Mayan's can agree on one thing: DoomsDay is coming!
And the upcoming official release information from YoYoNews.com:
First Look: YoYoFactory Doomsday Genesis:
Doomsday – As you may or may not have heard, 12/21/12 marks the end of the Mayan calendar and many have speculated that this also marks the end of the world as we know it. TERRIBLE as this may be, YoYoFactory has decided to turn this bad news into something SO big that it may actually eclipse all of the potential up and coming tragedy. On 12/21, YoYoFactory will be releasing the Doomsday Genesis, an entirely new version of one of the most popular metal yo-yos that we have ever produced. This version of the Genesis is manufactured out of ultra high grade 7075 aluminum, making it stronger and more durable than any other Genesis ever produced. Slight design alterations yield a slightly different weight distribution, a flat face on the yo-yo rather than an axle hole, and brand new laser engravings on both halves of the yo-yo. YoYoFactory and the Mayan's can agree on one thing: Doomsday is coming!

Specs:

67.9 grams
42.75 mm wide
56.42 mm diameter

Release Date: 12/21/12

Comes with Center Trac and Natural Pro Pads installed. New Spec X and extra Natural Pro Pads in the box.
(Via YoYoNews)
#yoyonews