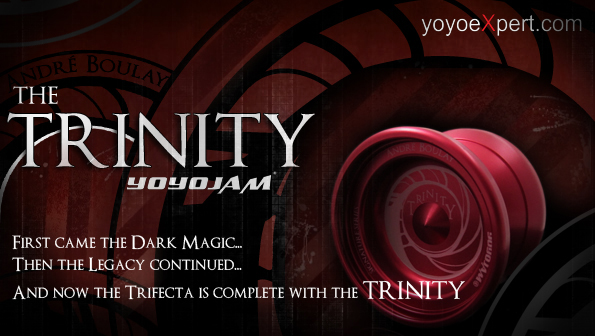 THE OFFICIAL RELEASE OF THE TRINITY IS HERE!
The all new YoYoJam Trinity is now available in a wide assortment of colors including red, blue, gold, black, and turquoise!
Also still available are a few of the Pre-Release edition that come with a signed trading card by National Yo-Yo Master André Boulay (aka the guy in all the YoYoExpert Tutorial Videos!)
From the mind of the man who brought you the competition winning 'Dark Magic' and gateway to unresponsive play 'Legacy' comes the next level and third installment. YoYoJam and André Boulay proudly present the Trinity.
From your first throw on the Trinity you understand that you hold the potential to learn, perform, and create. It has been built to empower you with extremely long sleep time and precision spin to make sure you have what it takes to hit that big trick in your next performance and to innovate new moves you didn't think were possible.