YoYoFactory is going all out for May this year with some incredible special editions of their most popular models!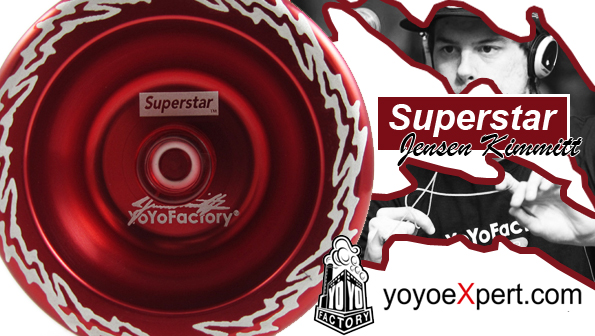 The first thing that strikes you is the lightning bolt lazer graphics (designed by Jensen) on the sides of the yo-yo. These form a solid white stripe when spinning to add an element of even more flare. Under the red anodize body there is a hidden lazer grinding finish to keep you in the game longer. High grade yellow CBC K-pads and Center Trac bearing stock these are limited to 100 pieces worldwide. Don't miss out on these.
Be sure to watch Jensen put his signature SuperStar through its paces here!
Also just arriving:
Also available is the Miguel Correa "Undeniable" Genesis. Miguel Correa does a lot more than just collect national 5A titles every year. Miggy has directed some of the most well known and most professional yo-yo videos out there, including the first YoYoFactory DVD, "Undeniable." Limited to 100 pieces, this yellow/green acid wash Genesis comes with completely re-done laser artwork and the Undeniable logo etched onto the grinding surface of the yo-yo. The best part? Every Undeniable Genesis comes bundled with a copy of the Undeniable DVD!