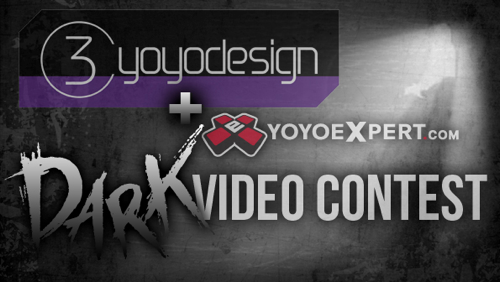 First let us just say how AMAZED we were with the number of entries as well as the quality of the videos and tricks presented. Great job to all the contestants. This was not an easy contest to judge as you can imagine!
If you have not already PLEASE go and watch the amazing entries:
Dark Video Contest Entries
---
RESULTS ARE IN! First we would like to take the time to thank C3YoYoDesign for approaching us with the idea and working with us to help run this amazing video contest. Be sure to check out their amazing new yo-yos like the DarkSonic or Master Galaxy!
Just to remind people what the players are going to win!
---
Prizes!!!
1st Place – USD 400 + Darksonic x 1
2nd Place – USD 150 + Darksonic x 1 + Darkstar x 1
3rd Place – USD 100 + Darkstar
Note: Money will be either sent via PayPal to winner or be given as a gift certificate to be used at YoYoExpert.com.
---
The Top Three Winning Videos are:
---
In FIRST PLACE is Ryosuke Iwasawa!
---
In SECOND PLACE is Andrew Robinson!
---
In THIRD PLACE is Kenji Nakatsuka!
---
Congratulations to the top three and THANK YOU to EVERYONE who entered the contest.
Full results from the contest are shown below.
We are emailing the winners this weekend with details on collecting your prize.
---
| | | | | | | | |
| --- | --- | --- | --- | --- | --- | --- | --- |
| Contestant | Technical | Creative | Editing | Music | Overall | Total | Ranking  |
| Ryosuke Iwasawa | 10 | 9 | 8 | 10 | 10 | 47 | 1 |
| Andrew Robinson | 8 | 9 | 10 | 9 | 10 | 46 | 2 |
| Kenji Nakatsuka | 5 | 10 | 10 | 10 | 10 | 45 | 3 |
| Chan Tse Yeung | 8 | 7 | 8 | 8 | 9 | 40 | 4 |
| Box Thor | 10 | 7 | 7 | 7 | 8 | 39 | 5 |
| Biser Lukich | 8 | 6 | 8 | 8 | 9 | 39 | 5 |
| Graeme Steller | 8 | 7 | 8 | 8 | 8 | 39 | 5 |
| Zongyuan Liu | 4 | 9 | 9 | 9 | 7 | 38 | 8 |
| Coleman Weimer | 6 | 8 | 8 | 8 | 8 | 38 | 8 |
| Nathaniel Leonard | 6 | 8 | 8 | 8 | 7 | 37 | 10 |
| Emmanuel Gabriel | 6 | 7 | 8 | 8 | 8 | 37 | 10 |
| Ilya Shaposhnikov | 5 | 8 | 8 | 7 | 8 | 36 | 12 |
| Kazuya Okura | 8 | 7 | 7 | 7 | 7 | 36 | 12 |
| Jared Overstreet | 6 | 7 | 8 | 7 | 7 | 35 | 14 |
| Miklos Pardy | 7 | 6 | 7 | 7 | 8 | 35 | 14 |
| Mihai Suster | 6 | 7 | 8 | 7 | 6 | 34 | 16 |
| Nikita Vasilyev | 5 | 8 | 7 | 7 | 7 | 34 | 16 |
| Josh Yee | 6 | 7 | 6 | 7 | 8 | 34 | 16 |
| Xie Zhi Jia | 5 | 6 | 6 | 8 | 8 | 33 | 19 |
| Takimoto Mizuki | 8 | 6 | 6 | 6 | 7 | 33 | 19 |
| Fukuda Shuniti | 8 | 7 | 5 | 6 | 7 | 33 | 19 |
| Meejay Olaybar | 6 | 6 | 7 | 7 | 7 | 33 | 19 |
| Sergei Soloviev | 6 | 6 | 7 | 7 | 6 | 32 | 23 |
| Austin Peacock | 7 | 7 | 6 | 5 | 6 | 31 | 24 |
| Jourdan Sumithio | 5 | 6 | 6 | 6 | 8 | 31 | 24 |
| Narcissus Li | 6 | 6 | 6 | 6 | 7 | 31 | 24 |
| Chiu Malcolm | 7 | 6 | 5 | 7 | 5 | 30 | 27 |
| Harrison Lee | 7 | 7 | 5 | 5 | 6 | 30 | 27 |
| Victor Keung | 6 | 5 | 6 | 7 | 6 | 30 | 27 |
| Sammy Jacobs | 6 | 6 | 6 | 6 | 6 | 30 | 27 |
| Matt Clements | 6 | 6 | 8 | 5 | 4 | 29 | 31 |
| Michael Ferdico | 7 | 5 | 6 | 6 | 5 | 29 | 31 |
| Mimi Thian | 6 | 5 | 6 | 7 | 5 | 29 | 31 |
| Konstantin Tudjarov | 6 | 6 | 5 | 6 | 6 | 29 | 31 |
| Anthony Destremx | 5 | 7 | 7 | 5 | 4 | 28 | 35 |
| Matthew Donovan | 5 | 5 | 6 | 6 | 6 | 28 | 35 |
| Steven Suazo | 6 | 5 | 6 | 5 | 6 | 28 | 35 |
| Junya Negishi | 6 | 5 | 6 | 5 | 6 | 28 | 35 |
| Arqi Iqbal Mahardika | 6 | 5 | 5 | 6 | 5 | 27 | 39 |
| Michael Acidera | 6 | 5 | 5 | 6 | 5 | 27 | 39 |
| Takumi Shirasaki | 6 | 5 | 5 | 6 | 5 | 27 | 39 |
| Andrew Garas | 6 | 5 | 5 | 5 | 6 | 27 | 39 |
| Victor Teofilov | 7 | 5 | 4 | 5 | 5 | 26 | 43 |
| Timea Simone | 4 | 6 | 5 | 6 | 5 | 26 | 43 |
| Sean Quinn | 5 | 5 | 5 | 6 | 5 | 26 | 43 |
| Noah Bachofen | 5 | 5 | 5 | 5 | 6 | 26 | 43 |
| Daniele Panico | 6 | 5 | 5 | 5 | 5 | 26 | 43 |
| Luckey Li | 6 | 4 | 5 | 5 | 5 | 25 | 48 |
| Matt Brown | 3 | 7 | 5 | 5 | 5 | 25 | 48 |
| Yoshiba Tatsunori | 6 | 7 | 2 | 5 | 5 | 25 | 48 |
| Erik Bjork | 5 | 5 | 5 | 5 | 5 | 25 | 48 |
| Slade Riggs | 7 | 5 | 4 | 4 | 5 | 25 | 48 |
| George Faue | 5 | 5 | 5 | 5 | 5 | 25 | 48 |
| Vlad Zamakhaev | 6 | 4 | 5 | 4 | 5 | 24 | 54 |
| Huan Pham | 4 | 4 | 6 | 4 | 5 | 23 | 55 |
| Austin Leonardo | 4 | 4 | 5 | 6 | 4 | 23 | 55 |
| Beak Tae-young | 5 | 4 | 4 | 5 | 4 | 22 | 57 |
| Philip White | 4 | 4 | 5 | 5 | 4 | 22 | 57 |
| Samir Elotmani | 6 | 3 | 5 | 3 | 4 | 21 | 59 |
| Ezekiel Velardo | 6 | 3 | 5 | 2 | 4 | 20 | 60 |
| Buck Bachofen | 4 | 4 | 4 | 4 | 4 | 20 | 60 |
| Isaac Cumplido | 4 | 3 | 4 | 4 | 4 | 19 | 62 |
| David Herrera | 1 | 8 | 3 | 3 | 3 | 18 | 63 |
| Camille Tracy | 3 | 2 | 2 | 2 | 3 | 12 | 64 |
| Yousif Alsharqi | 4 | 1 | 2 | 2 | 2 | 11 | 65 |
| Özgür Akdaş  | 5 | 2 | 1 | 1 | 2 | 11 | 65 |
| Ethan Stromquist | 0 | 0 | 0 | 0 | 0 | 0 | 67 |
#yoyonews