In 2010 a documentary crew showed up at the World Yo-Yo Contest to film players and showcase the yo-yoing world like never before. What they have accomplished is astounding and is the first 'real' look into the competitive yo-yoing world.
YoYoExpert was proud to be one of the largest sponsors of this film and is the first place in the world you can find the DVD officially for sale!
WORLD ON A STRING follows members of the yo-yo community, focusing on four players, as they prepare, travel to, and experience the 2010 World Yo-Yo Contest. The contest is an international championship, drawing hundreds of contestants to compete, each player aiming to reach their sport's pinnacle of success: to be world champion.
WORLD ON A STRING is a high energy film that combines the most compelling elements of documentary favorites Spellbound and Dogtown and Z-Boys. While it portrays a contest with its drama, disappointment, and exhilaration, it is far more than just a competition. It is a story of a community that has created from scratch the rules and traditions that underlie a vibrant subculture. It's a story of self-expression, loss, friendship, and coming of age set against the backdrop of a dramatic competition.
Through the experiences of four characters, viewers are brought into an international, quirky, lively world. Described by industry viewers as a 'pure joy to watch,' WORLD ON A STRING is the documentary film that leaves viewers feeling satisfied, enlightened, and motivated to follow their passions. As one industry professional put it, the film "is not just about yo-yos, it's about the world."
Interweaving intimate verite scenes, stylized interview footage, scenic yo-yo shoots, and compelling graphics, WORLD ON A STRING creates a unique, breathtaking visual style that brings viewers on the film's journey to understanding the main characters, the yo-yo community, and the world.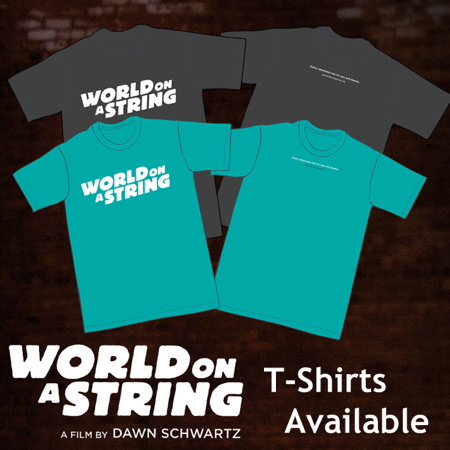 Available at a special price of $19.99 for the first 24 hours of release only! After that normal price is $24.99.
WORLD ON A STRING RELEASES HERE!
#yoyodrop