MINUTE:
The Minute may have a small name but it definitely has huge potential. It is one of the few undersized throws we have ever seen that can play at the same level as full sized metal yo-yos. The Minute is extremely fast, agile, and easy to maneuver – all the perks you would expect in an undersized throw. But Werrd took it one step further; they gave the Minute a wide stance and focused as much weight as they could out to the rims. The precision weight distribution and wide width of this throw make it extremely stable which is an uncommon trait in undersized yo-yos.
---
HOUR:
With a wide range of all metal yo-yos Werrd (the manufacturer from the land down under) understands yo-yo design and dynamics of spin. Built at a 59.90mm diameter and width of 40.80mm out of high quality 7075 aluminum the Hour can weave in and out of the string with the stability of a yo-yo you would expect to be much heavier.
While some yo-yo designs in this price range tend to sacrifice design elements or looks the Hour goes all out. Choices were all made based with an extreme focus on play, performance, and appearance. The HOUR is meant to be a killer in the metal yo-yo market and is ready for a challenge.
---
EIGHTY-SIX 400:
Now the name may just look like a confusing jumble of numbers next to the Hour and the Minute, but it has some real 'Time Series' significance. Here it goes – There are 60 seconds in a Minute, 60 Minutes in an Hour, and 24 hours in one day which makes for 86,400 seconds in one day and the clever name – Eighty-Six 400. Got it?
So, now that you're done checking the math to see if the number is correct (it is), we can start talking about this amazing powerhouse of a yo-yo. The Eighty-Six 400 was designed with a shape similar to the Werrd Hour but with a few precision tweaks to give it a completely different play style. Werrd gave the Eighty-Six 400 a slightly wider stance which increases the catch zone and greatly improves the stability. They also designed it with a slightly smaller gap width for tighter binds and increased the weight to give it ample extra spin time so you can land those extra long combos. Then, to top it all off, they added an amazing intricate engraving and polished rim walls to give the Eighty-Six 400 a beautiful refined look.
---
BLUEPRINT STRING:
Blueprint string is specially geared to the high standards of competition level play styles. It is made from high quality, 100% polyester string to be more resilient and long lasting while keeping a nice soft feel.
Blueprint string has the perfect feel for any serious yo-yo player. It holds the tension just right to breeze through slacks and whips and it has the perfect thickness, not too thick and not too thin, to give you a tight bind every time.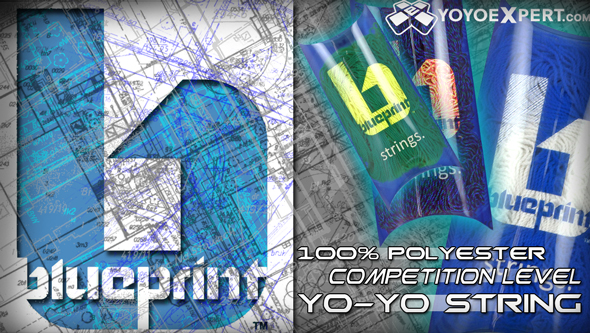 ---
BLUEPRINT PADS:
The Blueprint K-Pads are made to fit all 19mm standard slim pad yo-yos.
These pads are made from a high quality silicone chosen by Werrd to provide a long lasting pad that gives you the perfect amount of grip in every bind.