railgun
»
If you aren't familiar with the original Master galaxy – It was a really wide stable yo-yo. The RE:Master Galaxy takes up where it's predecessor left off with the same dimensions as the original,
Read More

»
7075 Krown ST: When C3yoyodesign approached World Champion Shinya Kido and asked him what he wanted in a signature yo-yo he replied "Good spin time yet light feeling and horizontal ready." And with that
Read More

»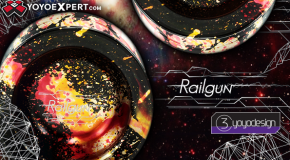 RAILGUN: C3yoyodesign modeled the Railgun after their flagship Krown series. The idea was to push the design even further to replicate the bi-metal performance of the Krown St in a cool new mono-metal design.
Read More

»