o.u.t.
»
Once Upon a Tree's new RW Series is sure to make the loyalist bearing throwers to jump over and try fixed play. Just For Fun: Just For Fun AVAILABLE HERE! Cheap Thrills: Cheap Thrills
Read More

»
The new Once Upon a Tree Tama Tack is a cool new bees wax based kendama enhancement! It was designed to give your kendama just the right amount of stickiness to help you land
Read More

»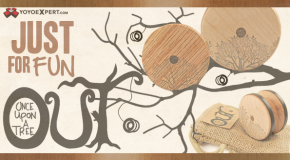 Once Upon a Tree is a small company founded by by Paul Cerny, based out of Houston Texas. He creates some amazing, hand crafted, wooden skill toys (The VooDama) and beautiful, fixed axle, yo-yos.
Read More

»