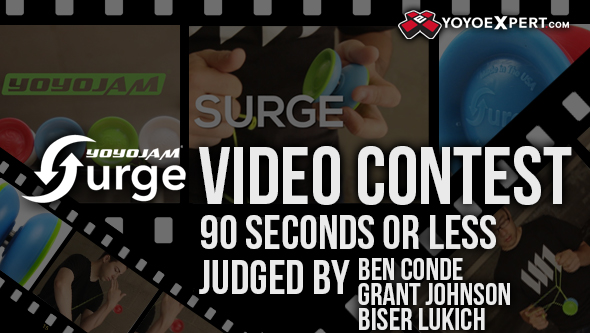 YoYoJam is confident the Surge is the best plastic yo-yo you will find. What better way to prove this then a video contest!
This is your opportunity to showcase your own style or creative tricks in one video and score some very sweet prizes at the same time.
Get ready to showcase the power of the SURGE.
---
Rules:
• Use YoYoJam Surge only.
• Video not longer then 90 seconds.
• 1A style only
• Contest open to everyone and anyone
• One entry per person
• Video must contain a YoYoJam logo and YoYoExpert logo anywhere in the video
– Download the YoYoJam Surge Logo Here.
– Download the YoYoExpert Logo Here.
– Download the Surge Video Contest Image here (optional)
• Video must be uploaded on YouTube:
• YouTube video must contain the follow tags YoYoExpert, YoYoJam, Surge
• Submit video on entry page.

Deadline for entries is Friday, July 5th

Judging will be based out of a score of 100 and the top 3 will receive 'quotes' from Team YoYoJam:
• Tricks (Ben Conde)
– Technicality 1-10
– Originality 1-10
• Video (Biser Lukich)
– Creativity 1-10
– Editing 1-10
• Overall (Grant Johnson) 1-60

---
Let's talk about PRIZES:
1st Place – $300 CASH
2nd Place – NEXT LEVEL Yo-Yo – Acid Wash
3rd Place – Inspire Yo-Yo
Most Views on YouTube – $100 Gift Certificate to YoYoExpert.
---
For inspiration we leave you with this amazing video:

---
Thanks to all the wonderful entries! Judging will commence soon!