Sengoku is a new company based in Nagakute, Japan creating some amazing high performance yo-yos with a cool story. The name Sengoku is an era in Japanese history when the country was in an internal war of samurai clans, finished only when Japan was unified by the Shogun.
Keeping this history in mind, Sengoku is naming their yo-yos after the most notable Samurai leaders, and their latest designs are the Masamune & Hideyoshi!
---
MASAMUNE:
Date Masamune was a regional strongman of Sengoku period. Heir to a long line of powerful daimyo (great lords vassals of the Shogun) in the Tōhoku region, he went on to found the modern-day city of Sendai. An outstanding tactician, he was made all the more iconic for his missing eye, and Masamune was often called dokuganryū, or the "one-eyed dragon".
The Masamune is machined from a revolutionary new alloy called Alumigo Hard and Sengoku designed it to really take advantage this new material. The benefit of Alumigo Hard is it's strength and machinability – It is stronger than typical aluminum and easier to machine than steel which makes it ideal for achieving the perfect weight distribution. The Masamune is machined with thin walls to reduce center weight and is fitted with Steel rings for increased rim weight that gives it an extremely powerful spin and stability. This yo-yo is fast moving, easily maneuverable, and built to perform!
Releasing Dec 11 @ 8PM EST!
---
HIDEYOSHI:

Toyotomi hideyoshi was a preeminent daimyo, warrior, general, samurai, and politician of the Sengoku period, who is regarded as Japan's second "great unifier". He succeeded his former liege lord, Oda Nobunaga, and brought an end to the Sengoku period.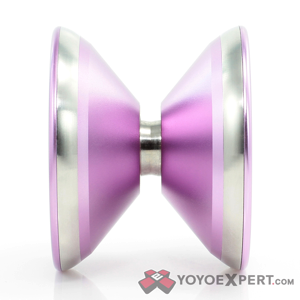 With Hideyoshi considered one of Japan's Great Unifiers, it only make sense that the yo-yo bearing his name would bring together so many different materials to create one amazing new yo-yo! The Hideyoshi is a tri-metal design composed of a light 7075 aluminum body, a dense steel outer ring, and an even denser brass inner ring. The balance and weight distribution achieved through the combination of all these different materials gives the Hideyoshi a completely new feel unlike anything on the market. It plays fast, feels light yet really solid at the same time, and has an incredible spin time and stability that you need to feel to believe!
Releasing Dec 11 @ 8PM EST!