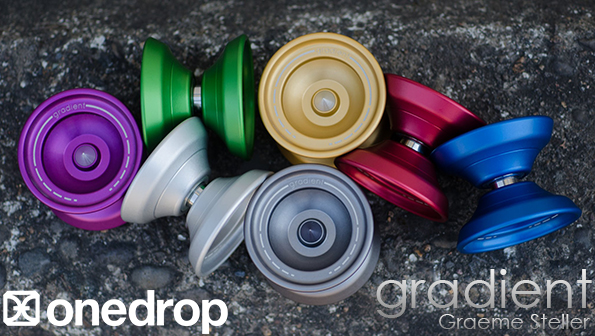 When One Drop makes a signature yo-yo for a player they don't just take their next new shape and slap a players name on it. They work with the player to create something that will represent them and perfectly compliment their style.
When Graeme got the opportunity to design his ideal yo-yo he actually turned it down! He told One Drop he wanted to wait until he had enough time to devote to such a big project, and that's what he did. This is the long awaited Graeme Steller signature throw. This is the Gradient!
The Gradient has a beautifully curved, angular profile that plays like a perfect fusion of the popular H-shape and V-shape designs. It combines the speedy and maneuverable V-shape play style with the super stable, long spinning, rim weight focused H-shape design.
Graeme chose this design to make the Gradient perfect for any play style. It is the ideal throw for anything from laid back slack tricks to risky horizontal maneuvers. And with the wide catch zone, the Gradient will help you nail that pesky new trick you've been working on!
The Gradient is an amazing addition to the One Drop lineup and sure to be a crowd favorite!