The new Kendama craze has been spreading across yo-yo scene faster than anyone could have predicted. Many companies are branching out and trying their hand at producing these addictive skill toys, so it is no surprise that the legendary Yomega would throw their hat in the ring and give it a go.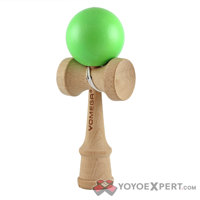 This Wooden Kendama is Yomegas first attempt at entering the kendama world, and they nailed it! Their traditional shaped, wooden kendama has a nice weight and is perfectly balanced for all play styles. The tama has a smooth, polished finish that really looks stunning with their vivid color choices.
---
---
Yomega took one look at the kendama market and realized there was one thing missing – a Plastic Kendama. Creating a kendama using plastic, which is denser than wood, allows for a slightly smaller, yet still perfectly weighted final product. And because it is plastic; it is extremely durable and dent-resistant. If you have played with wooden kendamas then you know it doesn't take long for dents and scratches to show up – the new Yomega Plastic Kendama will stay smooth and looking like new, trick after trick!