BACKPACK: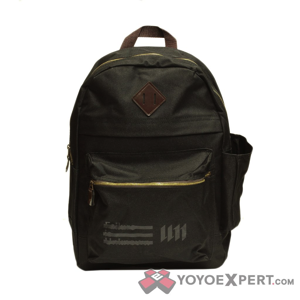 The Unknown Backpack is the perfect bag for your daily adventures. It has a front pocket for your yo-yos and accessories, a side pocket for your water bottle, and a large main compartment with a laptop sleeve for everything else you might need!
---
CEMENT T-SHIRT:
Maroon & Black/Red!


The new flag ship t-shirt showcasing the Unknown Cement Logo on the front with the "failure is unknown" logo crossed out on the back.
As a yo-yo player we have learned a lesson. We don't just give up when we get a knot or don't learn a trick right away. We persevere and keep at it. Failure is Unknown.
In competition if you lose you are not a failure. It just makes you stronger. You learn more from losing than winning. Failure is Unknown.
---
TECH T-SHIRT:
The inspiration of this shirt design was the iconic movie trilogy Back to the Future. Today the past and future collide, featuring past inspirations and our future advancements.
Unknown redesigned the +/- symbol as a tribute to represent not only the past view on future design but also to represent the technical judging system used in modern competitive yo-yoing, also known as "Tech".
This shirt features their "Failure is Unknown" tag line printed not he back in the spirit of this timeless classic!