L.O.E.P.
Sturm Panzer is back with an al new release – The L.O.E.P!! L.O.E.P. stands for Leo Ogre Explosive Phalanx. Now, the name is a little odd and there may be some translation issues there, but theres no issue translating how amazing this yo-yo performs!
The LOEP is a combination of two of Sturm Panzer's most popular models; The Leo Sniper MK2 and the Eclipse Ogre. It has the best attributes of each yo-yo, and packed into a smaller mid-sized frame it has some serious power!
Weighing in just over 60g, the LOEP may sound too light, but the spin power it offers in play surpasses far heavier rim weighted models. It has a fast light feel in play with incredible stability. Easy to maneuver and enough spin time to push through any routine!
---
STONE RIVER SKY:
The Stone River Sky was designed as a successor to the popular Sturm Panzer Eclipse Ogre. They wanted to create a more comfortable profile without losing the extreme rim weight that the Eclipse Ogre was known for and after a few throws we can confidently say they've succeeded!
---
STEALTH OGRE MK2: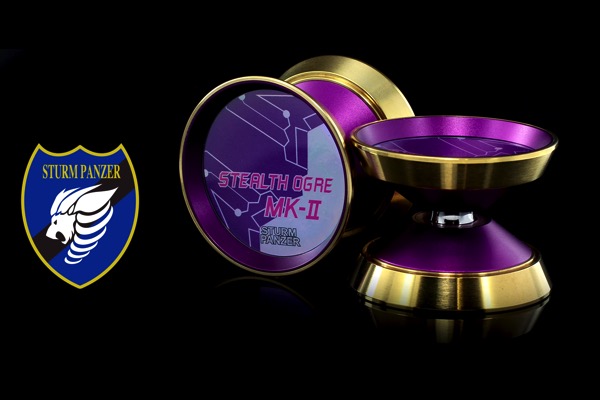 The Stealth Ogre MK2 is a heavier throw, but in play it feels easy to maneuver and a little on the lighter side. It has a serious spin power and stability that surpasses most other bi-metals on the market, and is one of the few Sturm Panzer models with the larger Size C bearing. Regardless of your preferences, you will be struck by how amazing the MK-II handles, Without feeling ""too light"" at all. Comes with a completely revised edition of the volume 1 story book (in Japanese only).