YoYoJam has some brand new releases coming soon – check them out:
---
---
US National Champion Eric Koloski Signature Series Diamondback is here!
---
---
Dynamic shape, extreme style, and breathtaking performance is what you can expect from YoYoJam's newest signature series metal yo-yo. Designed for National Yo-Yo Champion Eric Koloski, Diamondback is everything you could ask for in a metal yo-yo and so much more.
YoYoJam has been long known for its incredible rim weight expertise, designing yo-yos responsible for world records and world freestyle titles. This yo-yo takes everything they have learned and applies it to the modern shape demanded by the present-day yo-yo player. YoYoJam has truly refined and rethought every detail with the Diamondback.
Eric Koloski needed a yo-yo that had superb control and maximum stability. To get both aspects a high-density bronze ring is placed at the core of a precisely machined aluminum body. Perfectly balanced the Diamondback releases from your hand with incredible spinning power and some of the best control you will experience. The unresponsive 10-ball stainless steel Speed Bearing provides long, smooth spin times. This is the yo-yo to give you the confidence needed to get on stage and pull of that winning performance.
This yo-yo is all about a clean, crisp, and highly polished final look. Featuring YoYoJam's patent pending diamond finish across both the back of the body and inner half the look is stunning against the nickel-plated bronze weight ring no matter what angle you catch it at.
With Diamondback Eric Koloski takes YoYoJam's all metal yo-yo designs into the future creating an iconic new throw that will turn heads everywhere you go.
DiamondBack RELEASE DATE September 20, 2012
---
---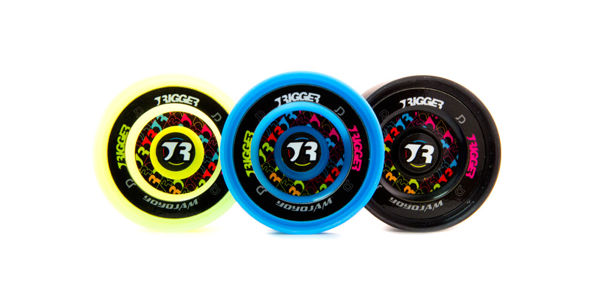 Trigger Release
The much anticipated Trigger is finally here!!
The look and feel of machined Delrin at a fraction of the cost!
---
---
World Champion and trick innovator Johnnie DelValle (JD) has been with YoYoJam for over ten years and has played a role in the some of the most iconic and popular yo-yos in the past century. This time JD and YoYoJam set out to produce a full-size budget string trick killer. This is the TRIGGER.
Trigger took months of development with every aspect carefully designed, engineered, and crafted to be the best in its price range. First Trigger is molded from the slick high density Celcon plastic into an extremely angular shape. Metal weight rings are precisely fitted into each half at exactly the right points for dead smooth spin. Finally, each Celcon Trigger body is hand-machined in critical areas to perfection to guarantee dead-smooth unresponsive play for today's modern yo-yo player.
Manufactured by YoYoJam in the USA, the Trigger comes built with the YoYoJam 10 Ball Speed Bearing and silicone response for completely unresponsive advanced play. It is also one of the first YoYoJam yo-yos to not feature side caps giving it a more refined, edgy, and simple look.
With JD's name on something you know it has a lot to live up to and Trigger delivers on it all. Built for the player, by the player. We wouldn't be surprised to find this in freestyle competition — it is just that good. So what are you waiting for? It's time to pull the TRIGGER!
Trigger RELEASE DATE September 27, 2012
More info coming as we approach release date! Get excited!

#yoyonews