VACATION:
The Vacation is the second bi-metal design to come out of the Recess workshop, and it is a blast! This yo-yo has a beautiful design that fits comfortably in the hand and feels smooth as butter on the string.
The bi-metal rings are fitted seamlessly on the very outer rim to give you that extra rim weight right where it's needed most. The Vacation plays solid and laid back without being too heavy on the string, exactly what you need to relax and unwind, yet still fast enough to pull off that speed combo you've been practicing on the side. It has an outer lip for thumb grinds, a smooth grind friendly finish, and a cup design that's just begging you to learn more fingerspin tricks!
---
FIRST BASE:
Fruit Series!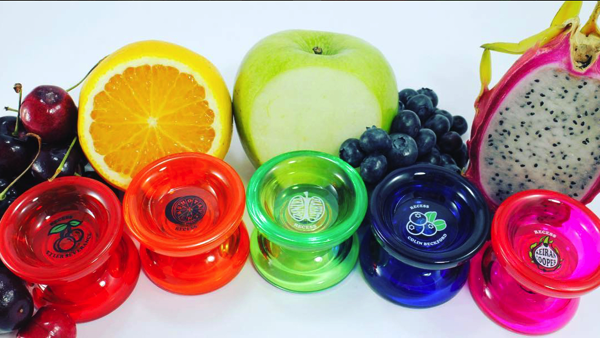 The First Base was created to serve as an affordable top performance yo-yo for everyone from beginner to pro! It's a full sized yo-yo with a really comfortable shape that fits nicely in the hand and has excellent stability on the string. The First Base is fitted with a slim bearing to excel at beginner tricks right out of the box and an optional size C bearing for more advanced tricks.
The Polycarbonate Molded Plastic body and simple logos give this yo-yo a really classic look while the metal bearing seat and modern weight distribution give it top notch performance!