Often hailed as the father of the modern yo-yo, Tom Kuhn creates some really beautiful yo-yos with a form and function that withstands the test of time. This is one of the most popular fixed axle designs from Tom Kuhn and some would even consider it the 'standard' for fixed axle play! The No Jive 3 in 1!
The No Jive 3 in 1 is made in the USA from durable Maple wood and laser engraved for a simple classic look. The functional 3 in 1 design of the No Jive is what really takes this yo-yo to the next level. It has a unique reversible design with a replaceable axle system which gives you the option to switch between a classic shape, a modern shape, or the unique pagoda shape – 3 shapes in 1 yo-yo!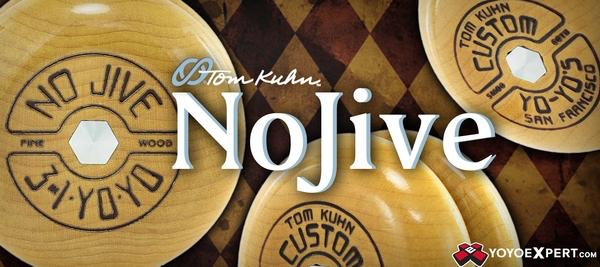 These San Francisco No Jives are 100% Original – Not Reproductions! Tom uncovered a batch of No Jives from "The Old Days" and we are super excited to offer them to the new fixed axle crowd!