BUTTERMILK:
A second new release from Crucial already? It's good to have you back Paul! This is the new Crucial Buttermilk!
The Buttermilk is the follow up to the Fresh Milk that released a few months earlier. They are both machined from delrin with similar dimensions and the same fingerspin friendly hardware, but the Buttermilk has a completely different feel!
The angular yet comfortable profile and slightly beefier rims of the Buttermilk give it a much more aggressive feel in play. It moves faster with a more solid presence on the string and has excellent stability through any combo.
Low walls and a wide gap make the Buttermilk ideal for complex tricks and the improved weight distribution ensure you'll get through your toughest tricks! Pick up a Buttermilk and live the Crucial life!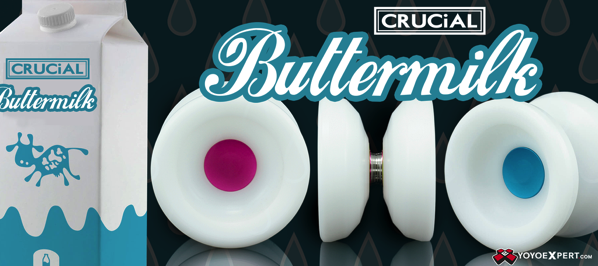 ---
FRESH MILK:
The Fresh Milk is the culmination of everything Paul has learned designing and throwing yo-yos over the course of his professional career. It has low walls to maneuver complex tricks, an organic profile for that classic feel, and an improved weight distribution that gives the Fresh Milk an amazing feel on the string.
---
GROOVED BEARING:
The new Crucial Grooved bearing not only features their signature 'groove' to keep the string dead center but it also tapers off leaving a concave area to keep the string dead center during string tricks no matter what!