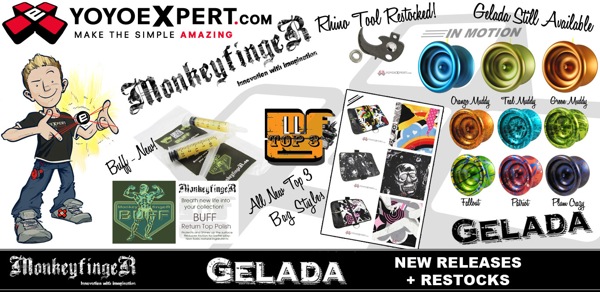 Let's talk MonkeyFinger! We have some great new 'stuff' from our crazy awesome Canadian friends!
http://shop.yoyoexpert.com/manufacturer/58/Monkeyfinger
First up is BUFF! Return Top 'Polish'! That's right – you can breath some extra life into your anodized yo-yos!
We also have restocked the TOP 3 bags in some great new styles.
And the Rhino tool is back too!
Of course let's not forget about the Gelada too. Some great colors still available!
|| Also… SNOT is BACK ||
SNOT (Flowable Silicone) is back in all new tube for better long term storage and use!


http://shop.yoyoexpert.com/product/658/Monkeyfinger-Monkey-Snot
#yoyodrop