Monkey Snot:
With Silicone now the standard in yo-yo play today flowable silicone is for those who want to always be prepared when they need new response or to the player who has extreme response demands.
And now with the help of MonkeyFinger you can fill your silicone groove with a custom color. Unleash your creative side, mix and match them. It's all up to you! Each tube of silicone will fill between 9 to 15 throws (Flow Groove Pad Size).
Simply fill the groove in the yoyo with the Flowable Silicone and smooth it out. Wipe off any excess, and let dry. In about 12-24 hours, you'll have a yoyo that binds tightly and doesn't snag (if done correctly).
With this latest restock MonkeyFinger has reformulated how the colorant is mixed into the silicone and how they load the tubes. The new method ensures the colours will not settle while sitting on the shelf and the silicone is exposed to no air at all during the filling process.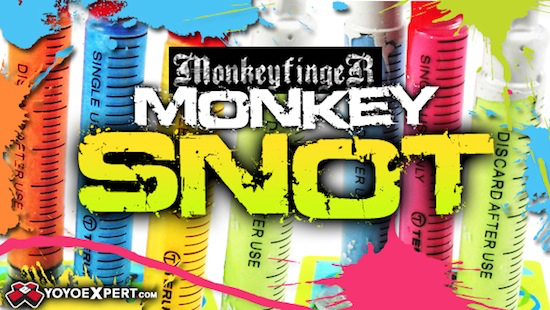 Customize your silicone groove the way YOU want – Made in Canada!
---
GORILLIUS LUBRICUS:
Gorillius Lubricus is more than just a yo-yo lube, it's a bearing conditioner. It is specially designed to protect against rust, corrosion, and wear and works at any temp.
This product lubricates and refurbishes the steel for a quieter and longer lasting bearing. Just add 1/3 of a drop whenever you clean your bearing and you're god to go!