Introducing the limited edition – Official 2014 World Yo-Yo Contest Yo-Yo – The BU2R by Turning Point! This signature yo-yo was created by Japanese Champion Kentaro Kimura especially for the World Yo-Yo Contest. Kentaro is one yo-yo manufacturer who consistently says NO to cheap mass production – His focus on precision work with high end materials in yoyos is among the best in the world, and it really shines through in this beautiful new yo-yo!
In collaboration with Budweiser Urban Projects (BU2R) Turning Point created a limited run, only one hundred pieces, of this shiny red beauty. Each BU2R Worlds Edition Yo-Yo has 62 small precision-cut Preciosa Crystals embedded in the outer rim and one larger Preciosa Crystal embedded in the hub. When this yo-yo catches the light it just looks stunning! If you're looking for a yo-yo that will really catch someones eye and shine on stage then you won't find anything better than this shimmering crystal encrusted gem!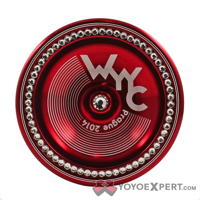 The BU2R WYYC Yo-Yo comes in really unique and cool packaging too! It comes inserted directly in an amazing yo-yo book. The book, Yoyeur, is filled with fantastic pictures of yo-yos and the players who throw them, along with information on each of them mapping the Czech yo-yo scene for the last 10 years! It really gives you a feel for the international yo-yo scene and is a great book to introduce to non yo-yo players as well.
These Turning Point BU2R WYYC14 Yo-Yos were sold at the World Yo-Yo Contest in Prague and due to the limited production this will be your last chance to pick up a piece of 2014 yo-yo history!