Jake Elliott is a self proclaimed picky yo-yo player and proud of it. When he couldn't find any strings he liked, he made his own. When he wanted a better counterweight, he made his own. And when he couldn't find a competition level yo-yo that he loved, King Yo Star made one that could match his high standards of play. This is the King Yo Star Rapid!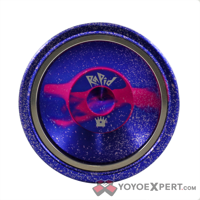 With all the new yo-yos on the market now it is hard to design anything that looks, feels, or plays unique. But that is the overwhelming feel you get when throwing the King Yo Star Rapid! The stainless steel rings in this bi-metal beauty give it such a great feeling weight distribution and the stepped V profile give it an amazingly fast and stable play style. Designed by the 2013 US 5A National Champion, you can just feel the amount of thought and experience that went into the Rapid.
King Yo Star created the Rapid to catch the eye of the top competitors in the world, and we think they've done it! As the first yo-yo we are releasing from this company we are certainly impressed and cannot wait to see what they do next!