VERiTAS:
iYoYo looked to the community once again and joined forces with young female yo-yo player Mathilde Witt to create their latest design! The VERiTAS!
Mathilde, at only age 14, researched all of her yo-yos to determine the ideal weight, proportions, velocity, and moment of inertia that would make a perfect throw for her. She created a highly detailed technical drawing of what the yo-yo would be, and with all her work she won her State Science Fair! After hearing about her project and seeing her dream yo-yo, iYoYo Owner Dave Geigle decided to make it a reality!
The VERiTAS is a unique design – A really original shape, super stable play, and amazing for fingerspins – It's such a fun yo-yo! It was designed on the heavier side at 70 grams, but powerful spin and stability you get from that added weight more than makes up for the heavier feel on the throw. It plays fast, rock stable, and as we mentioned before – Fingerspins!
With only 100 pieces made, the VERiTAS is a limited release and one of the stories that we absolutely love hearing about in our community. iYoyo is donating a portion of proceeds form the VERiTAS to future science fairs at Mathilde's school! Help support our young yo-yo entrepreneurs and get a great playing yo-yo at an excellent price!
---
SLACKiES Yo-Yo String!
iYoYo is creating a line of parts and accessories to outfit their team with the best gear possible. After creating custom pads and bearings for their yo-yos this is the last piece to the puzzle! iYoyo SLACKiES Yo-Yo String!
SLACKiES are a little thicker than most standard polyester strings which provides strong binds and excellent slack potential. They hold tension really well and have a slightly heavier weight which makes them perfect for long practice sessions and complex whip tricks.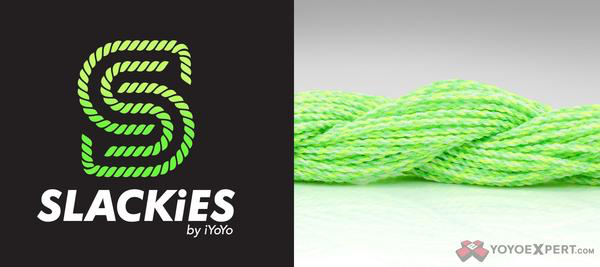 The majority of the iYoYo Pro Team has already switched over to SLACKiES and hasn't looked back! Pick up a pack and throw some slack!
---
HiDRA:
The Hidra is a really fun full sized design that fits perfectly in the iYoYo lineup. The large h-shape profile offers an incredible stable and solid feel on the string and provides a great catch zone for those risky tricks. It has a really relaxing and laid back feel that is great for everyday play and an amazing spin time that is perfect for practicing new combos!
---
FiRROX:
---
iYoYo 2: