iYoYo 2:
iYoYo is a small company founded by 5 time EYYC Champion Dave Geigle. Since their start, iYoYo has put together an impressive team, including EYYC Champion Carlos Braun, and has started to gain a significant following. And once we tried their latest yo-yo we knew we had to have it! This is the iYoYo 2!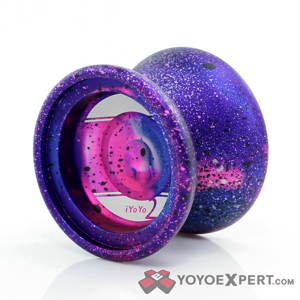 Over two years after the release of the first iYoYo and four different prototypes later, the long awaited iYoYo 2 has finally hit the market. The new iYoYo 2 has been tested by yo-yo players all over the world to perfect the design and give it that special feeling that will perfectly compliment any style!
The iYoYo 2 has a beautifully curved h-shape profile that fits comfortably in hand and a really unique cup design that we know you're going to love if you're into fingerspins! The weight distribution feels really stable through combos and gives the iYoYo 2 just the right amount of speed and maneuverability. Finished with a grind friendly sandblast, vibrant ano, and clean engravings, this yo-yo looks just as good as it plays!
You may not be familiar with the iYoYo brand, but once you throw one of their yo-yos you won't be able to stop talking about it!
---
iYoYo TiGer:
With the Year of Titanium drawing to a close, iYoYo and fellow German yo-yo company ILOVEYOYO teamed up to create a special new titanium yo-yo! We love to see collaborations in the yo-yo world, and a titanium yo-yo collaboration is about as good as it comes! This is the TiGer! Titanium & German, get it?
The TiGer is a full sized yo-yo with a nice organic shape that somewhat resembles a more modern ILYY Torino. It fits comfortably in the hand and has an excellent feel on the string. The weight distribution gives the TiGer a really fast and floaty play style and a superior spin time and stability that is hard to achieve with other metals.
iYoYo and ILOVEYOYO put in a tremendous effort with this design and you can feel it right when you pick it up. Everything from the design to the machining to the hand testing of these beautiful yo-yos was thought out to the smallest detail to give you the best possible quality yo-yo!