Submit Your Spooky Instagram Yo-Yo Picture and Win!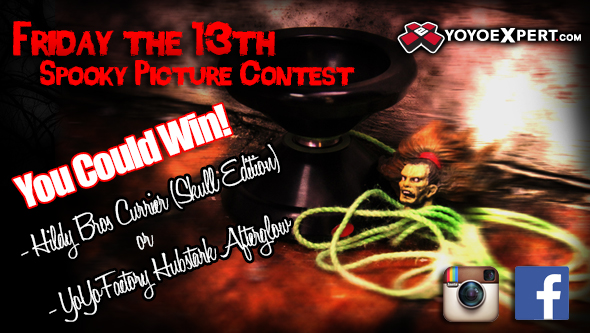 It's Friday the 13th Everyone! Grab your flashlight, check under the bed, and turn on all the lights in the house!
And in case you haven't heard there's a full moon tonight too! I'm not saying we're superstitious or anything but let's just say you won't catch any of us walking through a graveyard or dark alleyway tonight!
---
THE CONTEST:
Post your best creepy, scary, or spooky yo-yo picture ON INSTAGRAM and you can win!
---
THE RULES:
– Picture must contain a yo-yo
– Be creative, we don't want to see recycled Halloween pictures!
– Photo Editing is allowed and encouraged!
– Post all entries to Instagram with #Friday13yoyo and @YoYoExpert so we can find them all
– The Contest will run for 1 week – judging will begin on June 20th!
– The top 5 Favorites will be selected by the YoYoExpert Staff and the votes will be cast on Facebook to select the winners!
---
PRIZES:
1st: Hildy Bros Currier (Skull Edition)
2nd: YoYoFactory Hubstack Afterglow
---
GOOD LUCK!