The second spin top to come out of the Chico Yo-Yo Company workshop is a modern take on the classic spin top shape. They gave their cleverly named "Spin Top 2.0" a beautiful tear drop design that is perfectly weighted and balanced to give you long spin times and a solid feel. It is beautifully machined out of delrin and available in solid colors for a very clean refined look.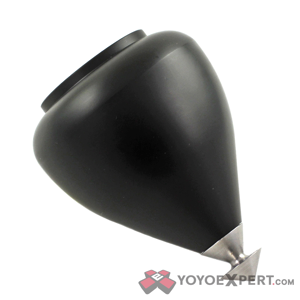 The most interesting part of the Spin Top 2.0 is the unique new tip shape. It is much broader than most spin to tips and has a somewhat flat design. This shape is great for helping beginners learn more advanced tricks, while at the same time the flared tip shape makes it harder to release which is a huge bonus for advanced players looking to get into inverted spin top play.
This new design is also machined completely as 'one solid piece' out of delrin. Not only is this a more complicated method to physically manufacturer it also makes the new spin top extremely durable as well as superbly weighted for balanced spin. Great for both learning on and the next Spin Top World Champion.
The CYYC Spin Top 2.0 is the perfect choice for beginners looking for a quality top or advanced players looking to take their spin top game to the next level!