Chico Yo-Yo Company took the classic Heavy Hitter yo-yo that we all love and redesigned it to the specifications of Mike Marshall's play style to create an entirely new competitive throw. The Heavy Hitter 3!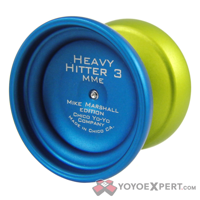 The all new cuts and shapes in the Heavy Hitter 3 are not only aesthetically pleasing but provide extra stability and sleep time to meet the needs of a wide range of play styles. The newly designed edges and weight distribution provide a good platform for horizontal play and top-on style tricks. Chico also added a few more cuts to the center and the inner sides to make an even more pronounced H-shape which increases the catch zone to give you that extra edge in the competition.
Join the Team and become a Heavy Hitter with the Heavy Hitter 3!