You have heard of the Code 2 – right?
Quick synopsis:
Yo-Yo players submitted their own yo-yo ideas to One Drop Yo-Yos and the community voting together ended up choosing one person's design! They worked with the winner and guided them through the prototyping process and came up with the absolutely amazing Code 2.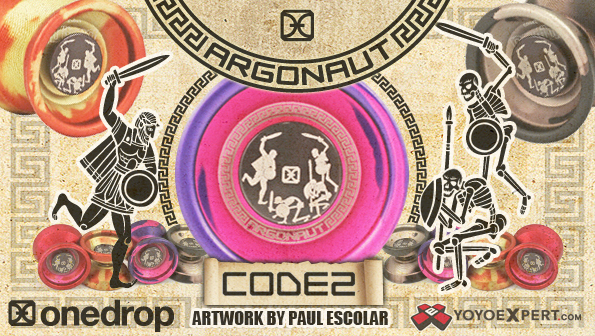 The winning design was from our very own YoYoExpert forum member and moderator Jason (Jrod / jrodriguez) and since its release it clearly became one of OneDrop's true flagship models for both competition and all around playability. We contacted Jason more then a year ago about creating a special edition Code 2 and here is the result! The idea was to create something in honor of his creation and who he is. Jason quickly replied with an amazing idea. What better way to honor Jason than with a Jason and the ARGONAUTS theme!?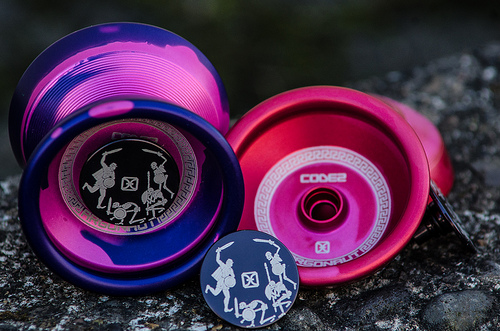 From there with help from the amazing yo-yo player and artist Paul Escolar we breathed life into Jason's idea and the Argonaut Code 2 is born!
Available in two varieties and each comes with a sticker signed by JRod himself:
– Red/Pink Acid Wash and Purple/Pink Acid Wash. Jason's own color choices. Features a custom Argonaut Side Effect AND custom Argonaut engraving on the yo-yo itself! See the pictures.
– Black/Silver Acid Wash and Red/Yellow Acid Wash. These feature just the Argonaut Side Effect but with standard Code 2 engraving on the yo-yo itself.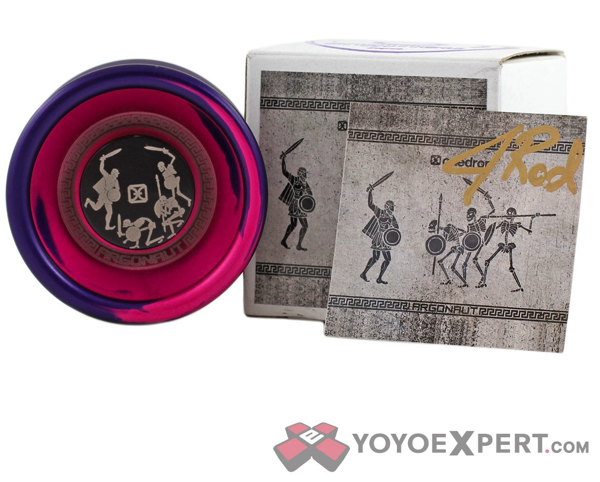 As with all One Drop Yo-Yos the Code 2 is proudly designed and machined right in Oregon USA.