To celebrate 5A May YoYoNews, Tyler Severance, and YoYoExpert have teamed up to bring you some exclusive tutorials with motivation to learn!
Here is Round TWO of the tutorial videos!
Buddha Redirect, Floating Beesting, Danny Rejection, Danny Front/Back Door, Dana Bennett!
If you learn any of the tricks you can score an exclusive discount on a SuperNova via YoYoExpert. (Tyler's signature yo-yo!) See Bottom of Post!
---
Dana Bennett Mach 5
---
Danny Front/Back Door
---
Danny Rejection
---
Floating Beesting
---
Buddha Redirect
---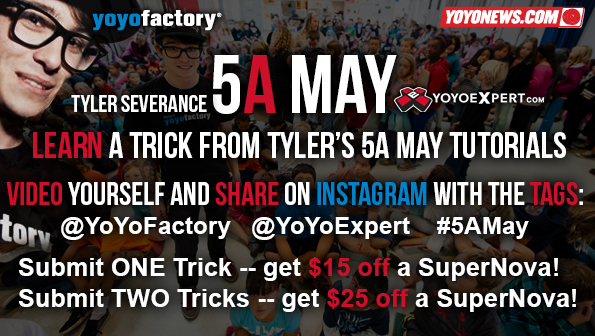 Details on how to score the discount is here:
https://yoyoexpert.com/blog/5a-may-supernova-discount/
5A May 'Trick Challenge' for SuperNova Discount